The IT community of KC takes a step forward….follow up: KC IT Professionals User Group Fair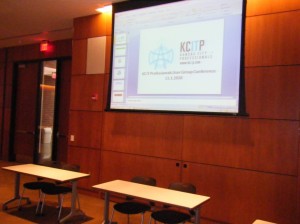 KC IT Professionals organized a user group fair on November 1st, which was a great first step in bringing our technology community together. Over 30 groups participated, networked, and added new membership from the hundreds who registered!!
The goal was to raise awareness of just how many resources and groups there are to get involved with. Mission accomplished: The feedback received was tremendous, both from group leaders and attendees! Many seemed to find more than a few new groups they wanted to learn more about. The hope is that this may spur further innovation in the tech sector of Kansas City!
Of all the events I've organized, this was one of my favorites.  It brought together people who are truly passionate about what they do and/or where they want to go in their careers. Being around individuals like that is infectiously inspiring!
Special thanks to all of the groups who participated and Doug Richards for his event idea!!
NOTE: I've added an event calendar – to act as a central repository for tech events..submit yours today!
On to the pictures:
---
---
---