KC IT Job Fair Follow up & contest winner announcement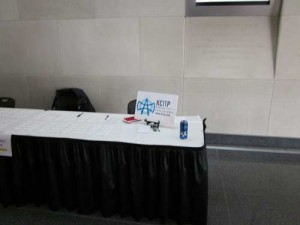 Our event on Tuesday was a fantastic success! We hope that our event helped talented IT professionals in KC to land jobs with great companies.
In this post, we'll review some of the highlights & feedback, announce contest winners & give thanks!
Highlights
Coverage:Kansas City Business Journal, KC Star Website, a couple radio interviews, and a retweet of our event by Kris Ketz!!
Feedback
We received a lot of tremendous feedback in person @ the event, via Twitter, and posted on our discussion area:
Here are a few of the comments:
"It far exceeded my expectations. Made several good connections between potential employers, IT recruiters, and other job seekers."
Thank you for organizing a job fair with participating companies that actually have a few job openings (even if some of those companies are filling positions of recently laid off workers). As job seekers, if we research the company websites before attending a job fair, we can be optimistic that the trip is not a waste of our time. I am hoping that my new contacts yield a job opportunity.
Thank you for coordinating todays job fair. The event was very well organized, and the companies present engaging. Nice job!
That was really a wonderful opportunity for IT job seekers to get in contact with many potential companies in KC area. Great Job!!!
Special thanks goes to
Thank you to all of the sponsors, JCCC, event volunteers, attendees who contributed to the success of this event!
Event day volunteers
– Bill Metzger
– Bob Rumbach
– Doug Richards
– Eddie Herman
– Gregg Pennington
– Joe Tierney
– Scott Walton
– Tara Ramsook
Contest winners
Congrats to our contest winners!
1. Doug Richards
2. Bill Metzger
3. Shelly Wales
4. Kerstin Burns
Sponsors
Gold Sponsors
DST is hiring:
Database Administrators

Business Analysts

Software Project Leaders

Java Developers

Unix System Administrators

Koch Industries is hiring for positions in Wichita (relocation assistance is available):

Enterprise & Security Architects

System Administrator/Windows Analysts

Jr. Database Administrator

Business System Analyst

Software Developer Analyst

LRS is hiring:

Windows Server Administrators

C# .NET Developers

SQL Server DBAs

Oracle DBAs

Mid-Senior Java Developer

MultiService is hiring:

Entry Level Programmer or Experienced Programmer (Oracle/Perl)

Quality Assurance Analyst

Technical Support Representative

Walmart is hiring (Opportunities in Bentonville, AR):

Programmer Analyst

Senior Programmer Analyst

Project Manager

Systems Administrator

Systems Engineer
Silver Sponsors
Cerner is hiring:

Systems Engineers

Software Engineers

Technical Support Analysts

Garmin is hiring:

Garmin Project Analyst – Internet

Database Developer

Software QA Specialist

Honeywell is hiring:
Application Developer

Windows Administrator

Business Analyst



UMB is hiring:

Java Application Specialist

Senior Data Security Engineer

Senior Systems Engineer
Bronze Sponsors
Advantage Tech is hiring:

NET developers

CivicPlus is hiring: (Opportunities in Manhattan, KS)

.NET developers

Digital Evolution Group is hiring:
.NET Engineers
PCM Resources is hiring:

Business Analyst w/ Business Intelligence skills

Popstar Networks is hiring:

Technical Sales Engineers

Service Management Group is hiring:

ASP.NET Developers

YRC Worldwide is hiring:

Windows System Engineers
---
---
---