Summer Career Fair follow up & thank you
We had a great time at the Kansas City Information Technology Professionals Career Fair, presented by Multi Service. We're so thankful for the support of our sponsors, volunteers and attendees!!
In addition to getting some great advice from the professional development section of our event, we hope that you land a position w/ one of the 11 hiring companies!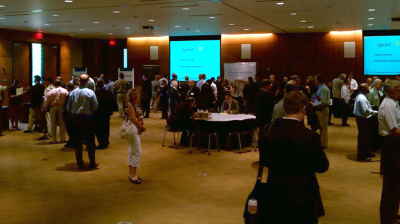 Highlights & Feedback
We got some great coverage about this event via the Kansas City Star and several mentions on local TV news stations!
Here are just a few of the comments made about the event:
Thanks so much! I have to admit – that was the first IT only job fair I have been to in, well… ever! Job fairs can be so spotty; it was pleasant to talk to people who were looking for what I had to offer them.
Thanks for setting this up! I usually do not like job fairs because usually they just say "hello and go apply online." I actually was able to talk more in depth with the hiring recruiters this time and actually got a call back from one of them pointing out a job that they think will match my qualifications. Hopefully it will lead somewhere, but even if it doesn't, this event was worth attending.
I thought the IT career fair was great. It was terrific to be able to talk face to face with hiring companies. Thank you for coordinating it.
I had a GREAT time. I haven't been to a Professional Experienced job fair since I was downsized.
I enjoyed the Job fair; I appreciate all the work you guys did to make that happen.
Extra special thanks
Thanks to:
– 11 great companies that sponsored our job section
– Professional Development Section Sponsors
– JCCC
– Kansas City Information Technology Professionals Volunteers
– All the rest of you who helped to spread the word about this event!
Social Media Club of Kansas City & Social Media Club of Lawrence Volunteers:
David Greenbaum, Alisha Templeton, Alaina Lamphear, Mike Burns, Ben Smith, Joe Cox, and Kerstin Burns
By the way, check out David Greenbaum's great post on: Using Linkedin to get a job, lesson's from the Kansas City Information Technology Professionals Career Fair
Keep in touch!
We do many different types of events, so stay tuned! Connect with us on Facebook, Twitter or Linkedin!

---
---
---