A message of courage from Iraq: KCITP interviews Sgt Nathan Nebelsick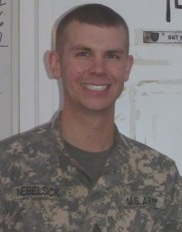 Meet Nathan Nebelsick: a Sergeant in the Army National Guard, deployed to Iraq in February of this year.
He joined Kansas City IT Professionals last week, and we thought this was a great opportunity to learn more about a man who put his life on the line to serve this country.
He'll give us a brief glimpse into what it's like to serve in Iraq, career goals, as well as some hopes and dreams.
Let's begin: Give us a quick bio
I began working at a young age at my parent's full-service car wash in Lincoln, Nebraska, quickly making my way up through the ranks to Manager. I was in charge of all advertising promotions, creating and maintaining our website, and building our customer loyalty program.
After high school, I joined the Military in 2006. I was in a unit that focused on Homeland Security. I have been deployed to Arizona to work with Border Patrol, a couple of hurricanes, flooding in Iowa, and Counter Drug operations in Nebraska and Germany.
In 2010, I became a Sergeant and was deployed to Iraq in February 2011. This is my first experience in a combat zone as Crew Chief for a Medical Evacuation Unit (Medevac).
I return to the states in November and complete this deployment. My contract ends May of 2012, in which I'll serve one weekend a month after I get back.
Why did you join the Army?
Plain and simple, I wanted to be a pilot. I still want to be a pilot and will be working on my private pilot's license when I return.
[pullquote]this seems like a logical choice to do something for my country[/pullquote] I also needed to do something after High School, this seems like a logical choice to do something for my country & accomplish my dream.
What's it like to be in Iraq? Take me through a typical day.
Can you say HOT? Every day has be 120 degrees plus.
Our assignment is to provide Medical Evacuation for U.S. Military and contractors. We crew and maintain Blackhawk helicopters, working 72 hour shifts. When incidents occur, we drop everything get to the aircraft and out off the ground in less than 15 minutes.
Our crew handles any medical condition from routine patient transfer (someone has to go to another base for specialized care), to point of injury.
For example: if a bomb goes off on the road, we fly in & pick up wounded soldiers/contractors, provide medical aid & fly them to the nearest hospital.
Other than that, we constantly inspect the aircraft and complete preventive maintenance.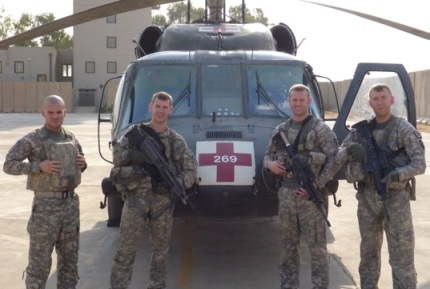 Can you share some of your unforgettable experiences?
My first Medevac was probably the most memorable experience here. There was a huge fire at the scene and I remember the smoke leveled off at about 1500 feet.
[pullquote align="right"]I'll never forget flying under that smoke plume[/pullquote] It was kind of like the smoke you see from the burning oil wells in the movie Jar Head. I'll never forget flying under that smoke plume, then landing on this Iraq road.
Shortly after that we had another Medevac for someone who had gone into cardiac arrest. I never thought I would be doing CPR, especially in the back of a helicopter, but I did.
Name a few things you've missed most since being deployed
– Food, my favorite restaurant Schlotzkys
– My Fiancé, we got engaged May of 2011, shortly after I got the call to go to Iraq. We were going to get married this summer.
– Water from the glass. I never want to drink out of the bottle again! Haha
– Home, I only moved down to Kansas City last summer after getting engaged and I was really enjoying there.
When did you first become interested in technology?
I have been interested in technology since a young age, it has always come natural for me. Back when DOS was the main thing before Windows 3.1 became prevalent. Since then I have always had a head for technology, being able to keep up with new platforms and understanding concepts about how things work.
I'm able to adapt to multiple systems and figure out the inner workings of things. I have always been the "go to guy" in my personal & professional life for computer questions. I always like a challenge when something isn't working right and am able to easily reference problems and fixes I have had/done in the past.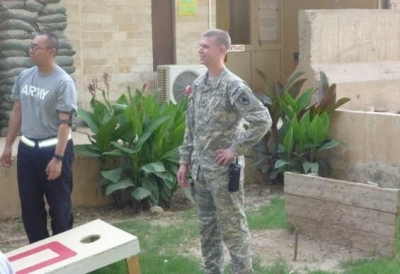 How do your current skills in repairing helicopters translate to IT?
Troubleshooting has probably been one of the biggest. Being able to take the symptoms that the pilot is describing and figuring out the components or systems that could be affected can be a challenge.
It takes years of experience to know helicopter systems and components, understand how they work and figure out what may be the issue.
Where do you see your career in 3-5 years?
I see myself as a manager or department head in the IT field somewhere. As someone who is able to get the job done, I have found it easy to get others to accomplish tasks. I also see ways the job could be done better and more efficiently. I really feel good when I can streamline something and make the employees and the client happy.
What are you most passionate about in life?
In the last year and a half, I have become really passionate about finding a good job that I can succeed in. I also am focused on secure my financial future.
Other than that, I love to dirt bike, ride motorcycles, snowbording and skiing. I love all things tech and am always wanting some new toys.
Last question: If you had 3 wishes, what would they be?
– Time to travel. Love to go explore europe.
– Own my own plane. Would love the freedom to go anywhere on a whim.
– Get my Bachelors degree. Maybe in IT or Business.
In closing
Nathan – I enjoyed doing this interview and feel fortunate that you joined our community…. all the way from Iraq! THANK YOU for your service to this country and know that KCITP will be here when you get back!
---
---
---