Thom Ruhe, VP of Entrepreneurship @ Kauffman Foundation To Speak At Hack The Midwest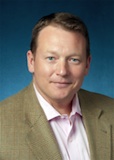 The latest addition to our speaker lineup for Hack The Midwest includes Thom Ruhe, Vice President of Entrepreneurship @ The Ewing Marion Kauffman Foundation.
Thom will be sharing his perspective on ideas, innovation and entrepreneurship on Sunday, June 3rd!
Here's a bit from his bio:
Prior to joining the Foundation, Ruhe was the founding chief marketing officer for JumpStart, a nonprofit economic development organization and seed stage investment fund created to invest in and accelerate the growth of high-potential, early stage companies in Northeast Ohio.

Before JumpStart, Ruhe served as president of Optiem LLC, where he led the growth of a nascent marketing practice to a nationally recognized interactive marketing, communications and public relations agency. Earlier in his career, he held positions in technology integration, marketing, finance, sales, and management. His experience spans founding several entrepreneurial endeavors as well as working with Fortune 500 companies.
So developers, what are you waiting for? In addition to Thom's talk, you'll build apps, meet cool people & possibly win great prizes. Don't miss out on the opportunity: space is running out…register today!!
About the Kauffman Foundation

We're extremely appreciative of The Kauffman Foundation's support of Hack The Midwest. They also sponsored the KCITP InfoSec Night (included a keynote from the CEO of Symantec & $10k Capture The Flag Contest)!
Here's some more info about the Foundation:
The Ewing Marion Kauffman Foundation is a private nonpartisan foundation that works to harness the power of entrepreneurship and innovation to grow economies and improve human welfare.

Through its research and other initiatives, the Kauffman Foundation aims to open young people's eyes to the possibility of entrepreneurship, promote entrepreneurship education, raise awareness of entrepreneurship-friendly policies, and find alternative pathways for the commercialization of new knowledge and technologies.

Founded by late entrepreneur and philanthropist Ewing Marion Kauffman, the Foundation is based in Kansas City, Mo. and has approximately $2 billion in assets.

For more information, visit: http://www.kauffman.org/

Follow the Foundation on Twitter www.twitter.com/kauffmanfdn

Like the Foundation on Facebook http://www.facebook.com/kauffmanfdn
Stay Tuned For More Updates!
The updates are happening so fast in the lead up to June 2nd…are you keeping up to date? Check out our latest prizes and sponsors!
---
---
---