David Windhausen, SVP @ Intouch Solutions To Speak At KC Hackathon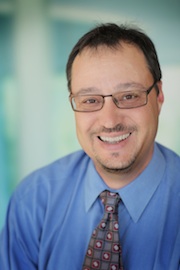 In continuation of our almost by the minute updates on hackthemidwest, we'd like to let you know that David Windhausen, Senior Vice President @ Intouch Solutions will also be speaking!
David will be speaking about leadership, lessons learned as an entrepreneur, building companies, and more!
About David
With over twenty-five years of experience in building solutions that drive business success, David is an established leader in Kansas City's technology innovation marketplace.
He has spent his career in both corporate and entrepreneurial projects, as a new technology consultant for Kansas City's own Marion Laboratories and by successfully founding and operating a local software development company, Trabon Solutions. He was named to Ingram's Magazines 40 under Forty in 2006 and was inducted into the Helzberg Entrepreneurial Mentorship Program in 2009.
Currently, David is a senior executive at Intouch Solutions; a local digital marketingagency focused on e pharmaceutical and life sciences companies.
So developers, what are you waiting for? In addition to hearing from David, you'll build apps, meet cool people & possibly win great prizes. Don't miss out on the opportunity: space is running out…register today!!

About Intouch Solutions

In addition to having the opportunity to hear from David, we're also extremely appreciative of Intouch Solution's sponsorship of Hack The Midwest.
Here's a little bit about them (P.S. Looking for a new job? Check out their open positions):
For over 10 years….

It may seem strange that a marketing agency was born from information technology, but that's where our story begins.

Intouch continues to challenge the traditional mold of a healthcare agency, leading its multi-channel services with a digital focus.

Uniquely, the firm has been providing innovative products that solve specific challenges faced by regulated industries. In the summer, Intouch found itself at the center of a pharma vs. Facebook firestorm. When Facebook announced policy changes making it more difficult for pharma companies to stay compliant on Facebook, Intouch served up the moderation tool PharmaWall.

When several social platforms changed the way they displayed shortened URLs, Intouch created its own URL shortening service to help ensure compliance.

Pharma-friendly social sharing widget share»send»save and its mobile solutions continued to build momentum. "Our clients appreciate our solution-oriented culture," said Faruk Capan, CEO. "That's what we're in business to do every day — to help our clients solve business challenges."

Med Ad News named PharmaWall one of three "Pharmaceutical Marketing Ventures to Watch" in November 2011.

Intouch also became a sought-after shop for iPad strategy, content, and implementation. Intouch launched more than 60 iPad applications reaching healthcare professionals and consumers in 2011, with many more in the works.
Open Positions
Intouch Solutions was named as a Kansas City Business Journal "Best Places to Work" in 2010 and 2011! Here are some open opportunities you might be interested in:
iOS Developer
The primary responsibility of this role is to develop utility and functionality IOS applications. This role will be responsible for developing new solutions as well as fixing issues and errors with existing applications.
Brief overview of skills required:
2+ Year of IOS development experience with Objective C and Cocoa Touch
Solid understanding Cocoa/UI Kit frameworks and the IOS SDK
Solid understanding of Apple Human Interface guidelines and be able to design good UX
Strong understanding of interactive touch/gesture interfaces, application development paradigms, memory management, file I/O, concurrency and multi-threading
…and more. Click "Learn More" below to see the full description!
Learn more
Business Systems Analyst
The Business Systems Analyst (BSA) role will have direct contact with customers making this position critical to the organization. The BSA will also collaborate with internal and external technical and functional teams to ensure that ideal technical implementations are targeted to meet the business objectives of the client.
Minimum 2 years experience; consultant, client facing experience a plus.
2 years software development experience with exposure to .NET, PHP, Python, or JAVA
Demonstrate an understanding of UX, SEO, analytics and social media.
…and more. Click "Learn More" below to see the full description!
Learn more
Mobile Front End Developer
Mid-level front-end developer to work closely with creative design and mobile back-end developers to create highly interactive HTML5/CSS3 based content for mobile and tablet based applications. Candidates able to demonstrate experience in mobile Web technologies and/or iOS/Android development are preferred but not required.
3-5-years professional work as a front-end developer
Expert level experience in hand-coding client-side Web development (XHTML, CSS), with a understanding of HTML5 & CSS3 animations & transitions as well as hand code structured and OO JavaScript to interact with frameworks like JQuery and Mootools
Thorough knowledge of design tools including Photoshop, Illustrator, and InDesign
…and more. Click "Learn More" below to see the full description!
Learn more
More Openings
Intouch has a ton of open IT jobs open in Kansas City & other areas – click the button below to see all of their openings! Learn More
---
---
---