Ben Milne, Founder & CEO – Dwolla: Empowering A New Transaction – The Future Of Money [VIDEO]
We're excited to showcase the sixth in a series of exclusive speaker videos from Compute Midwest, one of our biggest tech events ever!

Today you'll hear from Ben Milne, Founder of the disruptive mobile payments company Dwolla, his thoughts on the future of money and empowering a new transaction.
The Evolution Of Money
"Money is becoming digital..money is data", Milne said.
Whenever you swipe a card to purchase something, interchange fees cost the United States economy around 40 billion dollars per year.
Milne believes that this existing infrastructure is great at allowing us to get the things we want & need. However, it creates problems – not only from a fees perspective, but a risk/security perspective.
Empowering A New Transaction
Ben described his vision for Dwolla, a payment network:
"We believe our platform can empower the future of money…

…We want to empower anything connected to the internet to move money without people paying interchange fees."
When we transition from physical exchange to digital, it can change everything about payments.
Money That Doesn't Die
"I believe we can do better", Milne said.
In one of the most dramatic moments of Compute Midwest, he opened a backpack and pulled out thousands of dollars in cash.
Milne wanted to illustrate the real impact of interchange fees and get us to imagine just how different the economy might be if we didn't have $40 billion removed from the equation.

"….because I used Dwolla, this money didn't die"
Watch The Video
Learn about Milne's vision for the future of money:
Warning: Some language NSFW
Do you want to see other videos from Compute Midwest? Check out our playlist on Youtube!
About Ben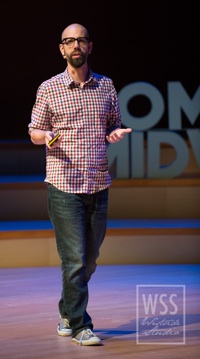 Ben Milne is the Founder & CEO of Dwolla, which boasts the nation's cheapest payment platform of only 25 cents per transaction.
In 2012, Milne was named in Inc's 30 under 30 list, highlighting the most promising young entrepreneurs.
In 2013, he was named to Forbes Disruptor List.
About Dwolla

Dwolla is a revolutionary mobile payments company that removes the need to use a credit card. Charging only .25 cents per transaction, you can use your mobile phone or computer, your social networks (Facebook, Twitter, Linkedin) as well as physical locations to send and receive cash.
Dwolla is a pioneer in the mobile payments space: in 2010 they introduced the first technology to empower seamless payments leveraging users' social networks. In 2011, they launched the world's first geo-location based mobile payments.
About Compute Midwest

Compute Midwest was a 2 day convergence of tech Nov 9-11th (2012) in Kansas City. Consisting of 1 conference, 8 amazing speakers, a hackathon and 2 parties, we connected over 400+ forward thinking tech minds to imagine & create a future, inspired.
Image credits: Westside Studio
---
---
---