Family Builds iPad Storybook App Together, Wins Father's Day Hackathon Contest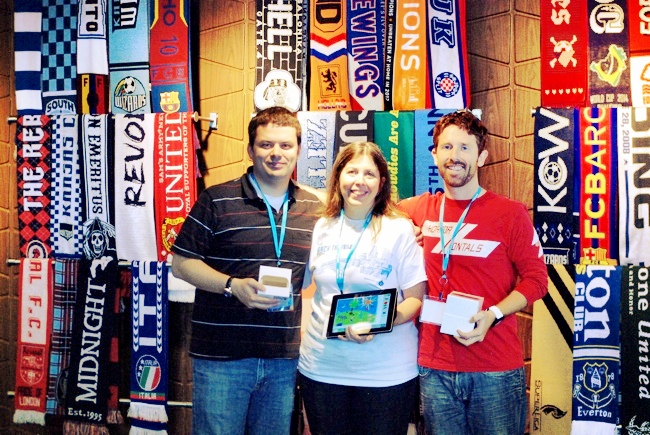 Left to right: Darren Cauthon, Rebecca Tombaugh and Caleb Cauthon
When one team set out to build a children's iPad app at this weekend's Hack Midwest, it became more than just a competition.
It turned into a family affair.
With just 24 hours to build a working prototype, Rebecca Tombaugh and her sons Caleb & Darren Cauthon created something special.
They collaborated on Sticker Storybook, an iPad app that allows young children create their own interactive stories.
The 30 ideas built during the event provided tough competition, but the family trio came away with the "Best Of Show" award, receiving 3 Apple TVs and 5 tickets to our Compute Midwest event this fall.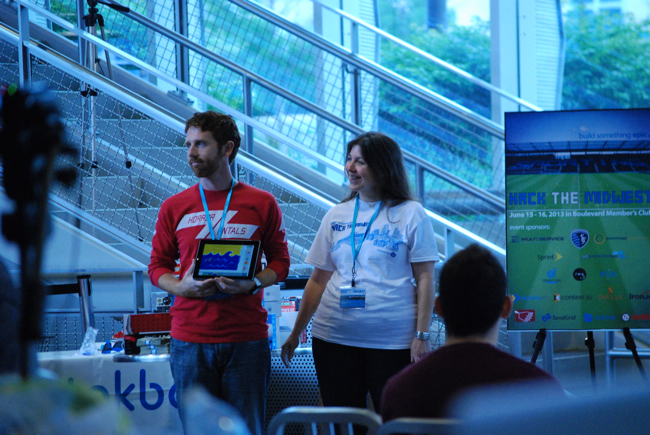 Caleb Cauthon and Rebecca Tombaugh Demo Sticker Storybook
Grandma's Art
When asked how they arrived at the idea, Darren Cauthon told us:
"I didn't come up with the idea first…I came up with the person. I had no idea what I wanted to build, but I knew I wanted it to be different. While struggling to come up with a plan, I thought of my mom & her art."
While struggling to come up with a plan, I thought of my mom and her art.
She told Darren that said she'd love to try going to a hackathon, so they tried brainstorming types of apps that would best fit her unique skills.
At a birthday party for Darren's 4-year-old son, they decided that an iPad sticker book drawn by Grandma Tombaugh would be really special.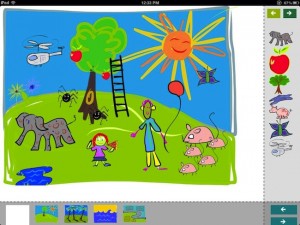 In her spare time, Tombaugh typically creates more "analog" art through painting and drawing.
At Hack Midwest, she created the custom digital artwork for the iPad app – over 50 stickers consisting of animals, plants, people and objects with 4 different backgrounds to use.
Darren and Caleb created the software to bring it to life. That way, "We can share Grandma's art with my kids", said Darren.
Today, Sticker Storybook is available as a web app formatted for an iPad, but the team plans to get a native version into the Apple App Store in the coming weeks.
Darren summed up his experience at Hack Midwest, stating:
​"It meant a lot for me to build something a personal as an app for my kids, especially on Father's Day weekend and with my mom.
After dinner that night, my son asked me to play the sticker game, asking for 'the one you made'.
That's a great thing to get out of a hackathon."
Watch The Demo
To learn more about Sticker Storybook, watch the 3 minute demo video from Hack Midwest
---
---
---