7 Reasons Why You Need To Attend Hackathons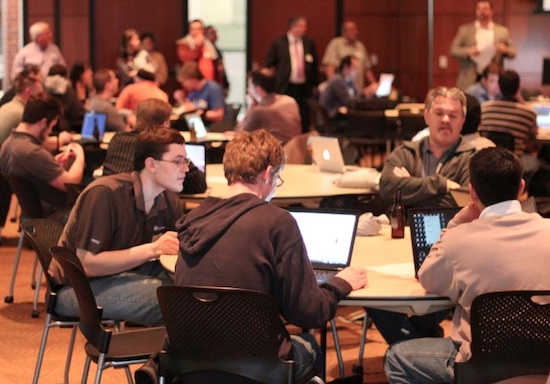 Are you a software developer? Have you been to a hackathon before?
Here a 7 reasons why you need to attend exciting developer competitions like our Hack Midwest hackathon in Kansas City.
What Is A Hackathon?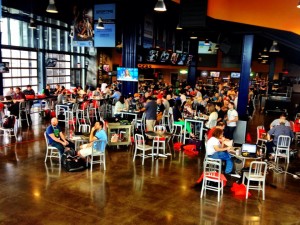 A hackathon is a 24 hour competition for designers and developers to come together and create something awesome for a chance to win prizes.
If you're a developer or CS Student, read on for the 7 reasons why you should join us at Hack Midwest July 19th & 20th at Johnson County Community College!
Connect With Passionate Developers
Meet other talented & motivated developers who are just as passionate about building things as you are.

Demonstrate Your Skills

Mobile App built at Hack Midwest 2013
You could be a talented developer, but who gets to see your work?
Do you get the recognition you deserve?
At Hack Midwest, your team will get the opportunity to show off your ideas for a chance to win prizes & get props from the community.
Push Yourself
The time constraints of hackathons force you learn to solve problems fast and focus on what's really important. It's all about just shipping.
"Done is better than perfect"
You'll be amazed at what you can build in such a short time period.
In fact, one idea built at a previous Hack Midwest got covered on top tech blog GigaOM.
Get Feedback
Could your UI use a tweak? Could you utilize a different database? Are you trying to build in too many features that will prevent you from completing the idea?
Sometimes the best rewards include recognition by talented peers in the industry.
Learn & Grow
There are no barriers to innovation at Hack Midwest. There are no client sign offs or executive approvals….you can create almost anything you want.
Learn about & use new tools, patterns, languages and more to build your idea.
Just stay focused and keep shipping code in hopes of winning awesome prizes at the conclusion of the hackathon!
Become Part of the Community
Community engaged professionals make great employees.. Unfortunately, many still think that staying "heads down" in their cube is a career strategy.

It isn't.

Attending a Hackathon like Hack Midwest is one of the best best things you can do for yourself.

When you become part of the community, you'll meet/collaborate with people who solve different problems & who have different experiences.

These connections and friendships can last a lifetime….and someday might lead to new career opportunities!

Change Your Life
Participating in a hackathon can change your life.
Check out Ben Barreth's incredible story: How Hack Midwest Changed My Life And The Future Of Kansas City".
Register Today!
There you have it – 7 reasons why you need to attend Hack Midwest!
This year we're taking applications due to demand – make sure to apply today!
Upon review, you will be emailed a registration link if accepted. Don't wait till the last minute – we sold out last year's Hack Midwest and the hackathon section of Compute Midwest.
Space is limited & we expect tickets to go much quicker this year! Your registration includes food/drink all weekend!
So developers, what are you waiting for? Don't miss out on the opportunity: space is running out…register today!!
Prizes
In addition to the API partner prizes, we've also added a couple of Special Award categories (won't be announced until the event). An example might include "Best Open Source app". These aren't tied to usage of a particular API.
Make sure to keep checking back for updates as we continue to add more!
(1) Butterfly Labs Bitcoin Miner
Up to (3) 3Doodler 3D printing pens
Up to (5) Syma X1 Drones
(4) Pebble Classic Smart Watches
Up to (3) ArcBotics Sparki Robots
(1) Zepp Baseball Sensor + $1000 in Pivotal Web Service credits
$300 in MasterCard Gift Cards
1 Year Subscription of "Rdio Unlimited" (1 per team member)
Selection of miscellaneous geeky Lego sets (eg, Star Wars)
$100 in MasterCard Gift Cards
..and more
For more info go here
---
---
---