Could You Travel To The Edge Of Space? Learn About The Woman Inventing This Future
"Exploration by real people is what inspires us", said Stephen Hawking.
What if you could take a voyage to the edge of space?
Learn about a woman who's built a company that's changing the future of space travel.
A Voyage To The Edge Of Space
Jane Poynter is the CEO of World View Enterprises, Inc. & she's the latest speaker addition to our incredible lineup at the Compute Midwest conference (presented by The Disruption Institute).
World View Enterprises is pioneering a new frontier at the edge of space. Their vision is to take Voyagers (be they private individuals or those traveling for research, educational or other scientific pursuits) on the "journey of a lifetime".
With it's proprietary high-altitude balloons, the company offers an accessible, affordable way to access nearspace.
World View's high-altitude balloon lets Voyagers gently soar for hours on end in a comfortable, smartly-outfitted, specially designed space capsule. Voyagers can now gaze upon these spectacular, life-changing vistas for the first time, as they sail along the frontier of space.

World View also provides new opportunities for research and education pursuits. The platform presents a variety of advantages over orbital and rocket-based suborbital options, allowing researchers a shirtsleeves environment in which to conduct experiments, as well as an opportunity for a unique education experience.
Learn more about this exciting technology that's changing the future of space travel
About Jane Poynter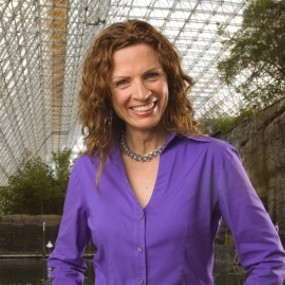 Ms. Poynter is currently Chief Executive Officer of World View Enterprises, Inc. which will be taking Voyagers to the edge of space.
She is co-founder of Paragon Space Development Corporation, which develops technologies for extreme environments (like outer space and under water). The firm has been named on Inc 500's list of fastest growing companies for four years in a row.
She's had experiments in her patented self-sustaining habitats flown on the International Space Station, the Russian Mir Space Station, and the U.S. Space Shuttle.
Jane is a member of the Biosphere 2, design team and a member of the original crew who lived inside the sealed, self-sustaining habitat for two years.
Poynter is also the developer of the crew and life-support systems for the Inspiration Mars free-return mission to Mars planned for launch in January 2018. The two person spaceflight mission was originally to be a private, nonprofit venture of 501 days duration which will allow a small human-carrying spacecraft to use the smallest possible amount of fuel to get it to Mars and back to Earth.
In 2009, she was awarded the Entrepreneur of the Year by the National Association for Female Executives.
Watch the inspiring, 1 minute Compute Midwest Conference video above!
About Compute Midwest
As seen in some of the world's top tech publications like Forbes, Fast Company and The Next Web, Compute Midwest is a 2 day convergence of tech: new people, new ideas and new frontiers in Kansas City.

With 1 conference, amazing speakers (including the founder of iRobot & CTO of IBM Watson), a hackathon and more, Compute Midwest provides a fantastic opportunity to connect you with 500+ forward thinking tech minds.

Join us on November 13th at the beautiful Kauffman Center For Performing Arts.

Get inspired & learn about what's next in technology – straight from tech leaders, startup founders & visionaries.

Hear the stories of innovators who are building companies that change our life, our work & our business.
Ticket Packages
We're offering a few different ticket packages this year.
Conference only – this gives you an all day pass for November 13th to hear our awesome speaker lineup. Includes breakfast and lunch.
Conference + Hackathon – this gives developers and designers an all day pass to the conference on November 13th and the Hackathon on November 15th. Includes breakfast and lunch at the conference & meals provided during 24h hackathon.
Hackathon Only – this gives developers and designers a pass to the Hackathon on November 15th.



Need Help Convincing Your Boss or Company?

Here's a company justification letter to help convince your boss to pay

Sponsors

Compute Midwest and other KCITP events are made possible by the support of the forward thinking companies you see on our Compute Midwest event site.
Interested in sponsoring? Get in touch!

Stay Connected

Here are some of the best ways to keep your finger on the pulse of Kansas City's Tech Community

---

---

---