Hack Midwest 2015: Join Hundreds Of Developers & Build Awesome Apps In 24 Hours & Win Prizes!
We're extremely excited to announce Hack Midwest – 2015 edition!

Hack Midwest (presented by The Disruption Institute) is a hackathon in Kansas City which brings developers, designers and CS students together for a 24 hour code-fest focused on building awesome apps for a chance to win prizes!

Join hundreds of software engineers, designers and computer science students on July 18th & 19th at Johnson County Community College!
What Is A Hackathon?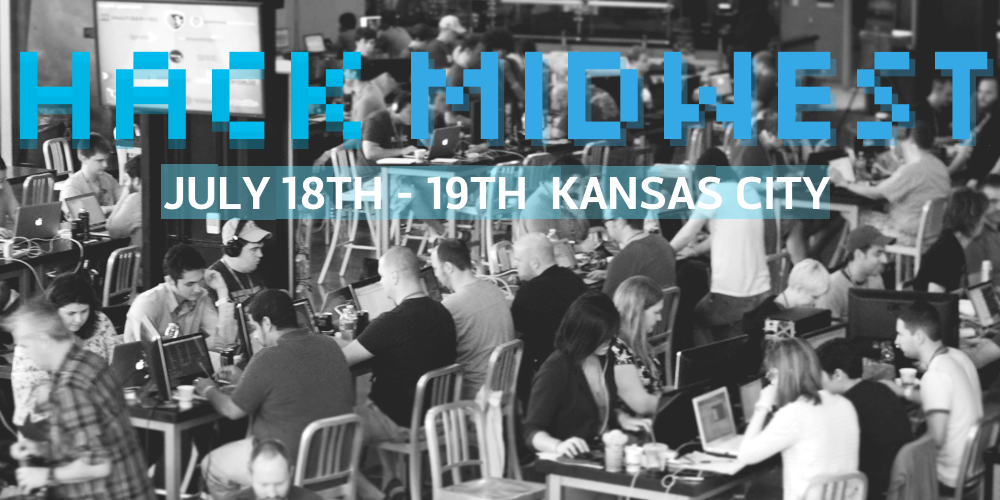 A hackathon is a 24 hour competition for designers and developers to come together and create something awesome.
Aside from the incredible energy that just can't be described, it's a fantastic way to learn & grow!
It's all about just shipping.
Are you frustrated with a world of endless process and other barriers to innovation? You've found your freedom at Hack Midwest, (presented by The Disruption Institute).
Join hundreds of software developers, designers and CS students that just as passionate about building things on July 18 & 19th at Johnson County Community College!
How Does A Hackathon Work?
Review APIs [ API Page ]
Come up with idea you can hack in 24h using 1 or more of the listed APIs (you can use non-listed APIs too)
Find a team of up to 5 (or work alone)
Build/Hack for 24h
Demo for a chance to win AWESOME prizes!
Get mad props from fellow coders & the community
Questions? Read our FAQ/Rules
What Could Happen At Hack Midwest 2015?
At past Hack Midwest – several awesome things have happened!
Here are just a couple of highlights:
Qup.TV won "best in show" & got covered on top tech blog GigaOM
The parking app "Where Da Spot" won "best design" & got recognition from Mayor Sly James:
Congrats Sporting Innovations team @hackthemidwest with city data they built an app to help find parking in #KC kcitp.me/LE7pQb FROSTY!

— Mayor Sly James (@MayorSlyJames) June 13, 2012
Prizes
In addition to the API partner prizes, we've also added a couple of Special Award categories (won't be announced until the event). An example might include "Best Open Source app". These aren't tied to usage of a particular API.
Make sure to keep checking back for updates as we continue to add more!
Doodler 3D printing pen
Up to (5) Syma X1 Drones
Up to (5) FitBark (Dog Activity Monitors)
Up to (2) Shot Trackers
Star Wars Lego set
Ticket package(s) to our incredible Compute Midwest tech conference this fall in Kansas City!
..and more
For more info go here
Get your ticket!
Make sure you register today!
Save $$ by registering today, don't wait till the last minute!
Your registration includes food/drink all weekend!
So developers, what are you waiting for? Don't miss out on the opportunity: space is running out…register today!!
---
---
---