This Futuristic Armband Could Turn You Into Tony Stark….Almost
What if you could control computers & machines with your hands, just like Tony Stark (aka Iron Man)?
Learn about a wearable armband that's revolutionizing the future of technology.
A New Era In Human-Computer Interaction
Aaron Grant is the co-founder of Thalmic Labs & he's the latest speaker addition to our incredible lineup at the Compute Midwest conference (presented by The Disruption Institute).
His company is changing how humans and computers interact with the Myo armband, a wearable gesture control.
The idea for the Myo armband was born out of fundamental question: How do we connect the real and the digital worlds as we move towards wearable and ubiquitous computing?
Myo lets you use the movements of your hands to effortlessly control your phone, computer, drones, video games and much more.
It works by measuring electrical activity in muscles to interpret what your hands & fingers are doing – then transmitting that information via bluetooth to communicate with your favorite digital devices.
About Aaron Grant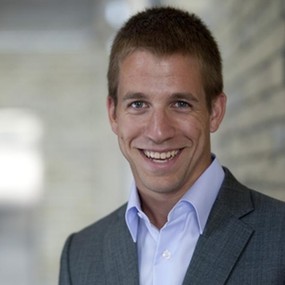 Aaron is Co-Founder of Thalmic Labs, a company building the future of wearable gesture control, known as Myo.
He has an extensive software engineering background, having spent time in Silicon Valley working for Zynga. His passion for software engineering has led him to create his own embedded microprocessor operating system.
Aaron graduated from the Mechatronics Engineering program at the University of Waterloo. Thalmic Labs has appeared in numerous top tier media outlets for their innovation, including the Wall Street Journal, Discovery Channel, Wired, TechCrunch & more.
Watch the inspiring, 1 minute Compute Midwest Conference video above!
About Compute Midwest
As seen in some of the world's top tech publications like Forbes, Fast Company and The Next Web, Compute Midwest is a 2 day convergence of tech: new people, new ideas and new frontiers in Kansas City.

With 1 conference, amazing speakers (including the founder of iRobot & CTO of IBM Watson), a hackathon and more, Compute Midwest provides a fantastic opportunity to connect you with 500+ forward thinking tech minds.

Join us on November 13th at the beautiful Kauffman Center For Performing Arts.

Get inspired & learn about what's next in technology – straight from tech leaders, startup founders & visionaries.

Hear the stories of innovators who are building companies that change our life, our work & our business.
Ticket Packages
We're offering a few different ticket packages this year.
Conference only – this gives you an all day pass for November 13th to hear our awesome speaker lineup. Includes breakfast and lunch.
Conference + Hackathon – this gives developers and designers an all day pass to the conference on November 13th and the Hackathon on November 15th. Includes breakfast and lunch at the conference & meals provided during 24h hackathon.
Hackathon Only – this gives developers and designers a pass to the Hackathon on November 15th.



Need Help Convincing Your Boss or Company?

Here's a company justification letter to help convince your boss to pay

Sponsors

Compute Midwest and other KCITP events are made possible by the support of the forward thinking companies you see on our Compute Midwest event site.
Interested in sponsoring? Get in touch!

Stay Connected

Here are some of the best ways to keep your finger on the pulse of Kansas City's Tech Community

---

---

---