DARPA's Director Of Innovation Set To Speak At Compute Midwest!
Do you want to be inspired? Learn about our latest Compute Midwest speaker & some of the incredible, world changing technologies his agency is working on!
Dan Kaufman is the Director of Information Innovation Office @ DARPA & he's the latest speaker addition to our incredible lineup at the Compute Midwest conference (presented by The Disruption Institute).
What Is DARPA?
The Defense Advanced Research Projects Agency (DARPA) is an agency of the U.S. DoD (Department Of Defense).
They helped to create countless innovations such as: the internet, GPS, stealth aircraft, Unmanned Aerial Vehicles & more.
Today, their work continues on building world changing innovations that allow "a future in which we can do extraordinary things".
For example, one of their most high profile projects as of late is ATLAS, a "Search & Rescue" humanoid robot.
Other notable projects include:
…and more
About Dan Kaufman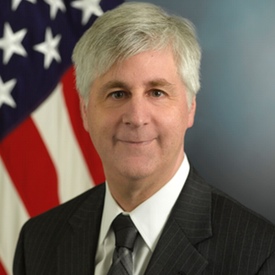 Mr. Dan Kaufman is the Director of the Information Innovation Office (I2O) at DARPA (Defense Advanced Research Projects Agency).
He is responsible for identifying and creating promising new information technologies and developing DARPA programs to exploit these advances for the benefit of the DoD (Department Of Defense).

Prior to his current role, he served as the DARPA Defense Science Office (DSO) Program Manager for the RealWorld Program, a computer system designed to allow soldiers to rapidly create their own mission rehearsal scenarios in geo-specific terrain over a scalable and fully distributed network

Before joining DARPA/DSO, Mr. Kaufman has worked at Auratio Consulting, Kalisto Entertainment and served as Co-Chief Operating Officer at Dreamworks Interactive

Mr. Kaufman co-authored an 800 page textbook entitled: Corporate Partnering: Structuring and Negotiating Domestic and International Strategic Alliances. He has lectured at Harvard, MIT, Stanford, and U.C. Berkeley.
Watch the inspiring, 1 minute Compute Midwest Conference video above!
About Compute Midwest
As seen in some of the world's top tech publications like Forbes, Fast Company and The Next Web, Compute Midwest is a 2 day convergence of tech: new people, new ideas and new frontiers in Kansas City.

With 1 conference, amazing speakers (including the founder of iRobot & CTO of IBM Watson), a hackathon and more, Compute Midwest provides a fantastic opportunity to connect you with 500+ forward thinking tech minds.

Join us on November 13th at the beautiful Kauffman Center For Performing Arts.

Get inspired & learn about what's next in technology – straight from tech leaders, startup founders & visionaries.

Hear the stories of innovators who are building companies that change our life, our work & our business.
Ticket Packages
We're offering a few different ticket packages this year.
Conference only – this gives you an all day pass for November 13th to hear our awesome speaker lineup. Includes breakfast and lunch.
Conference + Hackathon – this gives developers and designers an all day pass to the conference on November 13th and the Hackathon on November 15th. Includes breakfast and lunch at the conference & meals provided during 24h hackathon.
Hackathon Only – this gives developers and designers a pass to the Hackathon on November 15th.



Need Help Convincing Your Boss or Company?

Here's a company justification letter to help convince your boss to pay

Sponsors

Compute Midwest and other KCITP events are made possible by the support of the forward thinking companies you see on our Compute Midwest event site.
Interested in sponsoring? Get in touch!

Stay Connected

Here are some of the best ways to keep your finger on the pulse of Kansas City's Tech Community

---

---

---